In the winter, it's easy to forget about our garden while it's not in use. As spring approaches, it's a good time to head outside and get started on a few tasks ahead of the sunnier weeks to come.
One of the issues we see crop up time and time again is stained garden paths. However, there are some great solutions to reduce this problem, including jet washing for stonework.
Follow these top tips to help maintain your garden paths.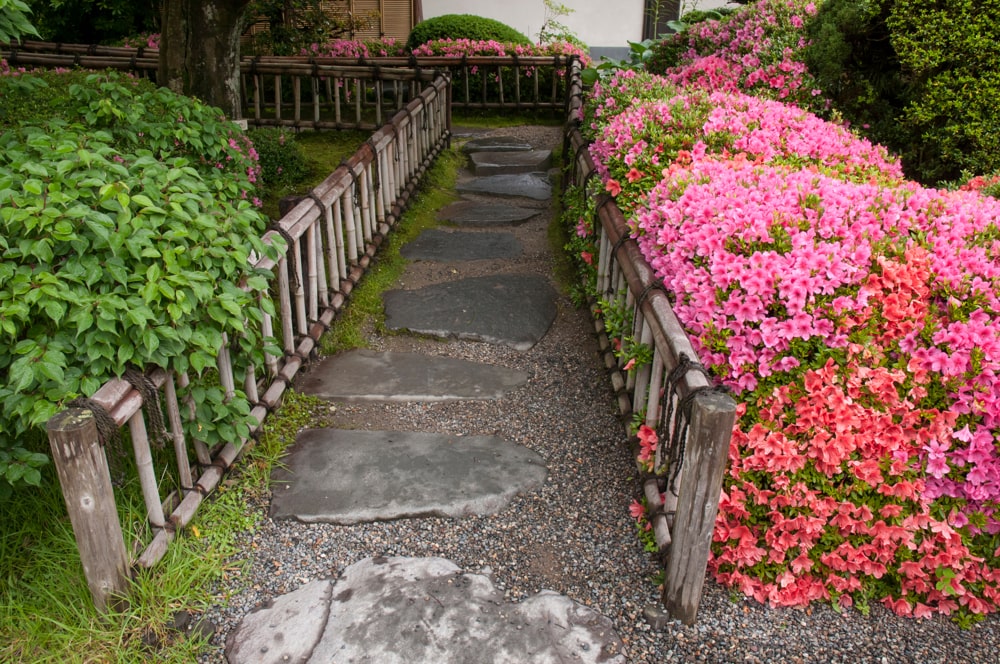 What causes staining on garden paths?
Garden paths look beautiful when clean, defining the way around outdoor spots such as ponds, as well as helping to provide a practical way to get to must-needed areas such as your shed.
Unfortunately, if the stone or brickwork becomes stained, it can bring down the whole look of the garden, and a variety of nuisances can cause these unsightly marks. This includes mud and soil spread by shoes, bird droppings and moss growth.
Without proper attention, the stains can become ingrained in the material, so it's important to tackle them as soon as possible before they become even more stubborn to remove.
How do you remove stains from paving and stonework?
How each stain is treated will depend on what it is. For example, some people choose to scrape moss from the path surface or scrub at bird faeces with a brush. However, if you want to save time and energy, one of the quickest ways to remove garden path stains is by jet washing.
This technique won't damage the stonework and paving, but it will blast the area with a pressurised stream of water to easily remove tough stains from the surface. Remove anything from dirt and grime to spilt paint, rust, algae and animal droppings.
It's best to avoid DIY pressure washing though, as improper use can lead to paving damage or even injury due to the high temperatures, water pressure and heavy equipment involved.
Top tips for maintaining your garden paths
Luckily, there are some really easy ways to maintain your garden paths all year round.
Firstly, it's best to identify any causes of the staining. For example, if moss, algae and lichen is cropping up in damp patches along the paths, you should move anything causing it when not in use, such as dormant hanging baskets in the winter. You could also apply moss killer treatments (always follow manufacturer instructions) to prevent to problem from recurring.
The best way to maintain your garden paths is to book regular jet washing services during the year. This can help with the upkeep of all your outdoor areas, whether it's paths, driveways or even your property's render.
Easy jet washing solutions
If you'd like to freshen up your garden paths with professional jet washing solutions, get in touch. Our experienced Jet Wash Surrey team gets fast results, restoring the look of outdoor surfaces in need of attention. We work across South West London and Surrey, coming out to Bookham, Bromley, Carshalton and beyond.
For more information or a free quote, call now on 020 8138 0184 or email us at [email protected].