Commercial Jet Washing
Do you run your business from a commercial property? It's vital the building and surrounding outdoor spaces look clean and professional, which can be challenging when there's high footfall and pollution in the area. Jet Wash Surrey offers a range of commercial pressure cleaning solutions to help you create the right impression of your premises.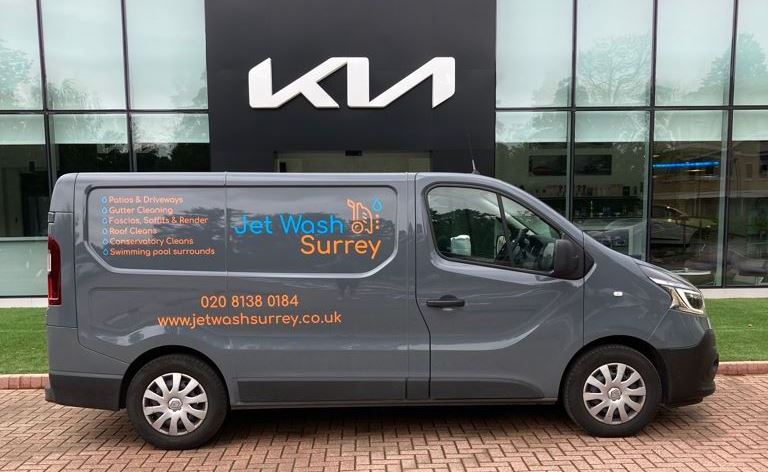 Professional Jet Wash Services
We're a reliable company, known in the local area for our professionalism and excellent customer service. Alongside our domestic jet wash services, we offer specialist commercial jet washing to help businesses uplift their surroundings and building exterior.
Benefits include:
Keep your property looking its best

Get results of the highest standards

Prevent algae, mould and mildew forming

Use for many different surfaces

Minimal disruption for your business
Our Commercial Pressure Washing Services – What's Covered?
Building Exteriors (including low-pressure washing for render and cladding)
Car parks & garages
Concrete & paving
Decking & terraces
Driveways
Forecourts
Outdoor seating areas
Playgrounds
Ramps
Roofing (moss removal)
Walkways and paths
Much more!
"After visiting our company premises and providing a free quote, we hired Jet Wash Surrey to clean our forecourt and building's façade. What can I say – we were over the moon with the outcomes and your team acted so professionally throughout. We'll be using your services again!"
"The best jet wash company in Surrey – reliable, fast and reasonably priced! I wouldn't use anyone else."
"A brilliant service from start to finish. Really detailed cleaning on our roof, including the tiles, fascias and soffits."
"Hassle free power washing service. These guys know their stuff."
"Amazing service! We hired Jet Wash Surrey to clean all our company's outdoor spaces, including the paths around our entrance, and we were so impressed with the spotless results. We'll be using their services again."
"Our new go-to pressure washing company – we'll definitely be back."
"Paul is highly knowledgeable about pressure washing, so gave us sound advice about how the render on the side of our building could be cleaned. They did a wonderful job removing all the staining and our property looks incredible. If you're looking for a pressure washing service, use Jet Wash Surrey."
"We hired Paul and his team for multiple jet wash services at our property. The work was completed to a high standard, and Paul is so helpful if you have any questions. A pleasure to deal with."
"Great jet washing service for patios and driveways. Fast, cheap and always turn up on time – nothing is too much trouble!"

Get in touch
Contact us to speak to an expert about what you need.
Site visit
A member of our team will visit your premises to take a look at the outdoor areas or building exterior that needs cleaning.
Free quote
We provide free, competitive quotes every time.
Bespoke plan

Each client receives a 4-step cleaning plan, using the most suitable jet washing techniques.
Work scheduled

We organise a convenient time to complete the clean, arriving on time and carrying out the job as efficiently as possible.
Exterior Building Cleaning – Transform Your Property's Façade
Buildings often suffer from a build-up of pollution, algae and airborne dirt particles that cling to their surface, creating unsightly marks and discolouration. When the outside of your building starts to look dirty or worn, it can affect the impression you make to the public, clients and visitors. Hence, it's essential to maintain the cleanliness of your property's façade.
We offer specialist jet washing for building exteriors, including those with rendering and cladding, which may require a soft wash. We jet wash all types of material, from stone and brickwork to wood and metal, using the best techniques to remove grime from the surface. Power washing can transform the appearance of shop fronts, offices, public sector buildings and more.
Building Exteriors
Pressure washing is an effective way to remove grime, dust, moss, and stains from building facades, ensuring they look their best.
Roofs
From tiles to GRP flat roofs, professional pressure washing can remove moss, algae, and other debris from any roof.
Pavements and Pedestrian Areas
Public areas often accumulate dirt, gum, and various types of spillages and stains. Our high-temperature, low-pressure jet washing service can restore the pavement or pathway to it's original condition.
Car Parks & Commercial Driveways
Oil stains, tyre marks, and general dirt and grime in these areas can thoroughly cleaned with jet washing. Using multiple machines and our own water supply we can clean multistorey car parks in no time.
Signs
These can gather dust and bird droppings over time – our top of the range pressure washing can help maintain their visibility and appearance.
Outdoor Furniture
Whether it's plastic, wood, or metal, outdoor furniture can be refreshed and cleaned with a high-pressure washer. We have worked with restaurants, bars and pubs to jet wash their outdoor areas.
Warehouses & Factory Floors
We can efficiently remove grease, oil, and other stubborn stains that typically accumulate in factories, warehouses and other industrial units.
Public Monuments & Statues
Careful jet washing can remove accumulated dirt, bird droppings, and other substances, restoring their original appearance. We take a lot of pride and care when working with important landmarks.
Commercial Vehicles
Trucks, vans, and other commercial vehicles can be thoroughly cleaned with pressure washing. This is particularly important for businesses where the cleanliness of the vehicles reflects on the company's image.
Playgrounds
Over time, playgrounds can accumulate dirt, food residues, bird droppings, and other undesirable substances. Jet washing can be used to clean playground equipment, benches, and safety surfaces, providing a clean, safe environment for children to play.
Canopies & Awnings
Canopies, awnings, and outdoor umbrellas often gather dust, bird droppings, and sometimes mould or mildew due to their exposure to the elements. High-pressure washing can help to restore their original colours and prolong their life by removing these materials.