Brick & Stonework Cleaning
Are you looking for specialist brick and stonework cleaning? Jet Wash Surrey provides cleaning for all exteriors, using the most effective, yet gentle methods. We can clean all types of residential and commercial exteriors, from period homes to office buildings.
Every building that we clean is unique and our specialist team will be able to make an assessment to ascertain the most suitable cleaning methods for any project.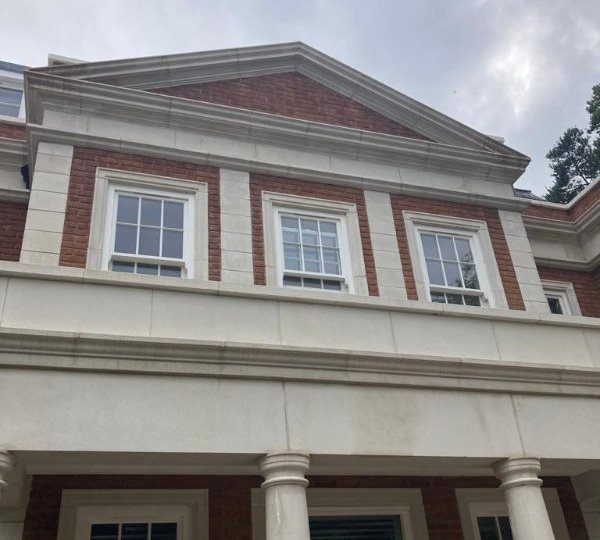 High-pressure cleaning devices can cause damage to stone and brickwork, so we use specialist power washing techniques and other approaches to guarantee superior results with every clean.
We use tried and tested cleaning methods and always achieve outstanding results. As well as removing all traces of surface grime, our brick and stonework cleaning can remove ingrained dirt and grime or tougher stains, such as paint or graffiti.
We use only the most eco-friendly cleaning methods, to protect not only your brickwork but also the environment. We always take the utmost care, so your bricks and stonework look as good as new.
Would you like to request a free quotation or talk to our cleaning specialists? Call now on 020 8138 0184.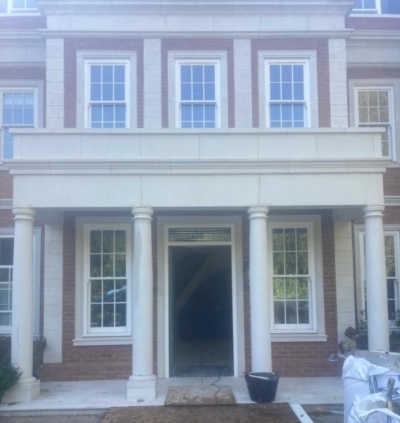 Images of stonework cleaning in progress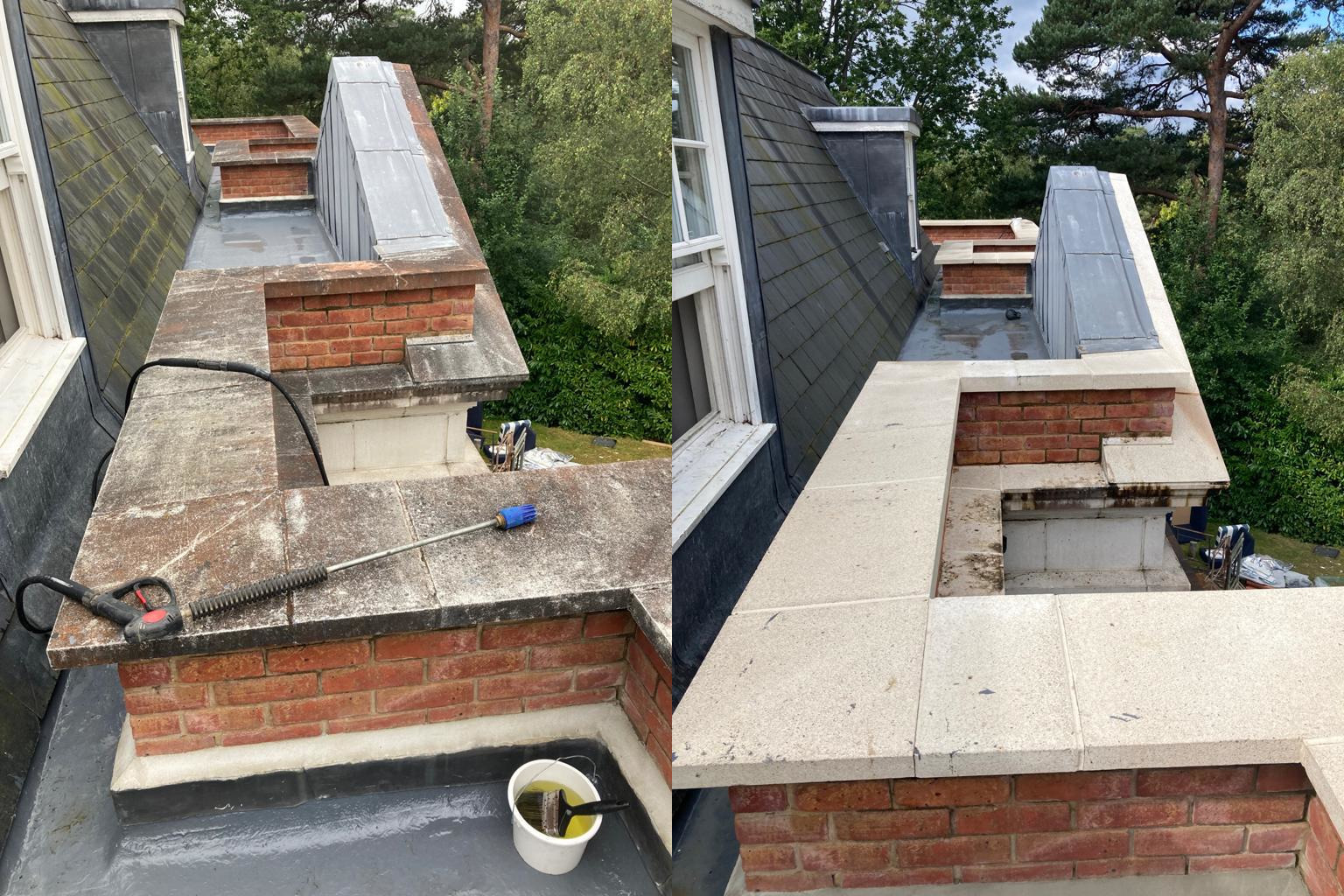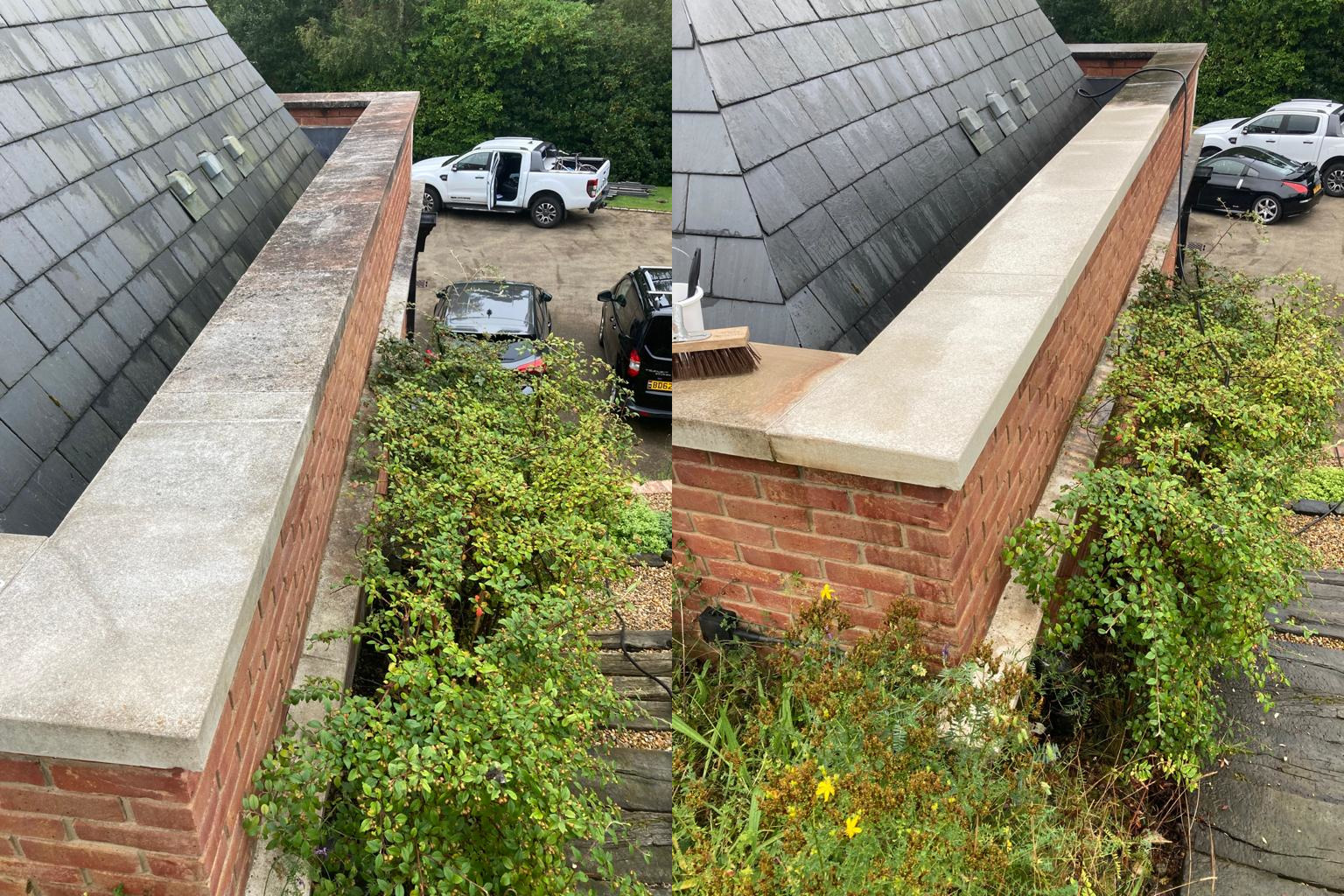 Exterior cleaning for all residential and commercial premises
Over time all buildings will become dirty and discoloured due to pollution and other natural factors. Surfaces are exposed to the natural elements, which causes grime and dirt to develop and moss and algae to grow across exterior surfaces.
Brickwork: We can clean all types of brickwork, using the gentlest cleaning techniques. This includes pressure washing, doff cleaning, torc cleaning, and power washing, and the type of cleaning will be dependent on the condition of the brickwork.
Stonework: We provide professional stone cleaning to bring back the original colours of your stone and provide further protection against structural damage. It is important to act early to help prevent damage to your property, so you can make considerable savings over time.
Paint removal: Do you need to remove paintwork from brick or stone? This might be because you want to expose the original surface or would like a new surface for repainting. Our professional paint removal service will complete the job quickly and effectively.
What is doff cleaning?
Doff cleaning is a type of cleaning technique that uses a high temperature and low pressure. This type of cleaning method is designed specifically for stone and brickwork. This allows our cleaning to clean any exterior without excessive water or pressure that could damage a delicate surface. The temperature and pressure can be adjusted according to the type of material and its condition.
Doff cleaning is effective in removing graffiti, mould, and restoring colour and can transform any exterior surface so it looks like new. Our team of brick and stonework specialists will be able to deliver the results that you need.

Get in touch
Contact us to speak to an expert about what you need.
Site visit
A member of our team will visit your premises to take a look at the outdoor areas or building exterior that needs cleaning.
Free quote
We provide free, competitive quotes every time.
Bespoke plan

Each client receives a 4-step cleaning plan, using the most suitable jet washing techniques.
Work scheduled

We organise a convenient time to complete the clean, arriving on time and carrying out the job as efficiently as possible.
Brick & Stonework Cleaning offered in the following locations:-