Pressure washing is a fantastic way to keep your property looking good, whether it's cleaning brick and stonework or removing stains from your driveway. With so many DIY jet washers available, it's no surprise some homeowners decide to give it a go.
However, did you know you could be causing more damage to areas around your property? Without the right know-how, it's easy to use the wrong techniques, temperatures and equipment for the surface you're cleaning.
Here's why professional pressure washing is the best option.
Can jet washing cause surface damage?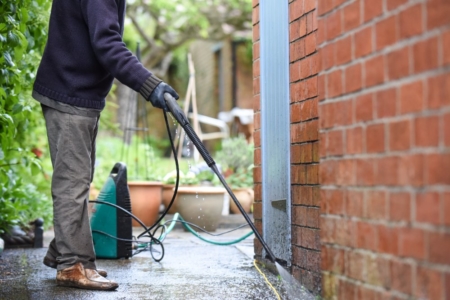 Pressure washers provide a variety of methods to clean anything from bricks and stone to wood and render. However, it's not as simple as flicking an on and off switch. There are various options when you look at the equipment, including steam cleaning, high-pressure washing and hot water.
Each surface around your property will have different requirements when it comes to how they should be cleaned, whether it's a gentle wash to give the area an uplift or a more powerful method for removing tough stains, algae and general grime.
If you choose the wrong technique, you could cause permanent damage, especially to delicate surfaces like wooden decking or painted areas.
What other property damage can occur?
As well as avoiding surface damage, great care needs taking during the clean to ensure water expelled by jet washers remains outside. This is particularly important if you're pressure washing parts of a property such as rendering or roofing. If the nozzle or hose isn't controlled by a skilled hand, it could lead to water ingress and leaks within the home.
A professional jet washing company will carefully assess every job to ensure water pooling or run-off won't become an issue, including power washing sloped driveways and patios.
Are pressure washers dangerous?
Pressure washing equipment is incredibly hazardous if you haven't been trained in how to use it safely. Property owners often underestimate the control required to ensure the job is completed with utmost care. If mishandled, the washers can cause scalds from high temperatures, electric shocks or other physical injuries.
In the wrong hands, the process can cause injury to yourself or others, especially where debris is being removed from surfaces at high speeds.
Furthermore, some jobs such as algae removal may also require chemical treatments to ensure it doesn't come back. These should only be applied by someone with sound knowledge to ensure safety remains paramount at all times.
Reliable jet washing solutions near you
Are you looking for a professional jet washing service near you? Jet Wash Surrey works across the area, including SW London locations. So, whether you're based in Banstead, Beckenham or Guildford, we'd love to have a no-obligation chat about what you need.
To get in touch, call now on 020 8138 0184 or email [email protected].