As the weather starts to get warmer, planning time in the garden becomes one of the most enjoyable parts of the season. However, you may want to check how clean your patio is as harsh conditions in Autumn and Winter can leave this area looking a little grubby. This includes a build-up of algae such as moss on its surface, which is hard to remove without specialist know-how.
Here are some top tips for removing moss from your patio area to restore its look.
Why Does Moss Grow on Patios?
It's common to find moss growing on hard surfaces such as patios, decking, garden paths and driveways, along with other algae and lichens. This can happen in wet and shaded spots, and while it can occur all year round, it's often more noticeable in the winter. This could leave your concrete slabs or decking an unsightly shade of green, and it can even cause the area to become incredibly slippery. Therefore, finding safe and effective ways to remove the moss is a must.
Can You Use Weed Killer on Your Patio?
If you want to use moss killer to help with its removal from areas such as your patio, you'll need to choose a product that's suitable for this type of material. For example, the chemicals must be approved for use on hard outdoor surfaces such as concrete or stone. Always check what your slabs are made of and follow the instructions on the bottle about how much to apply and how careful you need to be when spraying it near other plants or grass.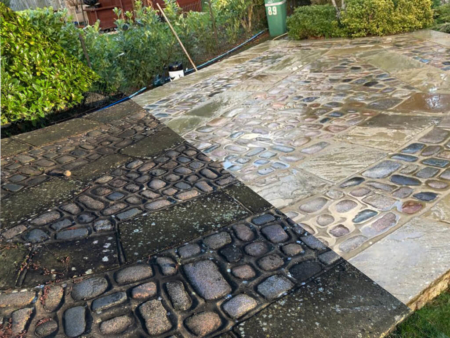 Is Jet Washing Effective on Moss?
Jet washing your patio is one of the most effective means of removing moss from its surface. This type of pressure washing solution takes much less effort than labour-intensive methods such as dislodging the algae with a knife or wired brush. It will also remove anything else causing your patio to look less than its best, including dirt and bird droppings.
Many people choose to hire a professional jet washing company to save them time and eliminate the cost of buying decent equipment that will take up floor space in your shed. It also ensures the moss is removed using appropriate methods rather than adding more water to the area unnecessarily, which often happens if you haven't undertaken the right training. Jet washers can be used to remove moss from several different outdoor spots, including drives, stone, wooden features and sheds.
How to Prevent Moss Regrowth
After the moss has been removed from the surface, you could consider specialist treatments to help prevent moss regrowth. For example, this could include wood preservatives on decking and fencing. You can also think about what's causing the moss to spread, such as lack of sunlight reaching your patio, pruning overhanging plants or tree branches to help improve the issue.
Do you need expert patio cleaning advice?
Contact Jet Wash Surrey today. We provide professional outdoor power washing and patio cleaning services across the local area, coming out to Esher, Hersham and Kingston. For a free, no-obligation quote, get in touch now.