Both domestic and commercial property owners install solar panels to harness the sun's energy and turn it into electricity. It's becoming an increasingly attractive option for businesses and households to help reduce energy bills and their environmental impact.
However, it's vital to maintain and clean solar panels so that they remain as effective as possible and increase their lifespan.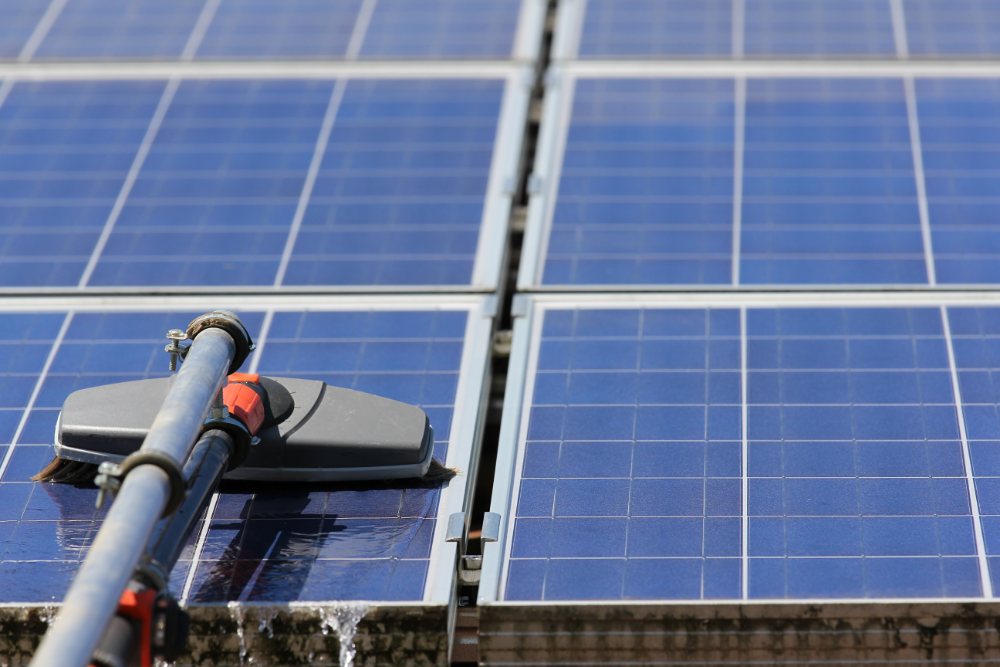 Here's everything you need to know about solar panel cleaning and how much it costs households.
Why clean your solar panels?
Solar panels are installed in spaces exposed to the elements, i.e. a property's roof. While they may start shiny and new, the panels soon pick up dirt and grime, from bird droppings and airborne debris to dead insects and watermarks, similar to conservatory roofs. This affects how efficiently they perform (decreasing efficiency by up to 30%), and it can look unsightly too, reducing the kerb appeal of your property.
Unfortunately, most types of solar panels aren't made from self-cleaning materials. To maintain them, solar panel cleaning should be completed regularly (about every six months). Always note the manufacturer's advice regarding cleaning your solar panels, as it may even state that guarantees are only valid if the guidance is adhered to.
What's the cost of solar panel cleaning services?
Keeping solar panels clean can reduce repair costs, providing a cost-effective way to maintain them.
Professional solar panel cleaning services vary in price (£4 to £15 per panel, according to CheckaTrade), depending on a variety of factors. This includes the number of solar panels involved, their location, how dirty they are and the company's expertise. Ensure the cleaners have experience completing this type of job to keep your solar panels safe from damage.
Always choose a solar panel cleaning company offering free, no-obligation quotes to get an idea of the costs in your area. You can also find value for money services by ensuring they use methods such as water-fed pole cleaning, eliminating the need for costly scaffolding to be erected around your property.
How are solar panels cleaned?
Solar panels are almost always situated at a height, so specialist equipment is required to get them sparkling again. One of the easiest ways to clean your solar panels is to choose professional jet washing services.
The safest method of cleaning solar panels is via a water-fed pole system. This environmentally-friendly technique allows solar panel cleaning companies to easily reach them from the ground.
Purified water is used to wash the panels, as mains water can damage them by corroding the frames, putting mineral deposits on the surface and leaving smears behind.
Get a free solar panel cleaning quote
Here at Jet Wash Surrey, we offer reliable solar panel cleaning solutions across the area, coming out to locations such as Croydon, Hackbridge and Horsley.
To arrange a free, competitive solar panel cleaning quote, call us now on 020 8138 0184 or send a message to [email protected].