Pressure washing is something that many people turn to in order to keep their outdoor areas looking spick and span, no matter the season. Often used on patios, stonework, driveways and block paving, pressure washing is a great way of removing dirt, grime, and other seasonal sludge. However, there's some confusion as to what exactly it is.
The terms pressure washing, power washing, and jet washing are all used interchangeably, which is why many people often struggle to tell the difference between the three. Even if you know your way around a pressure washer, you may not know what exactly makes it different from a power washer, which is why we thought we'd set the record straight.
Before we get into exactly what the differences are, here's a recap on the basics of all three.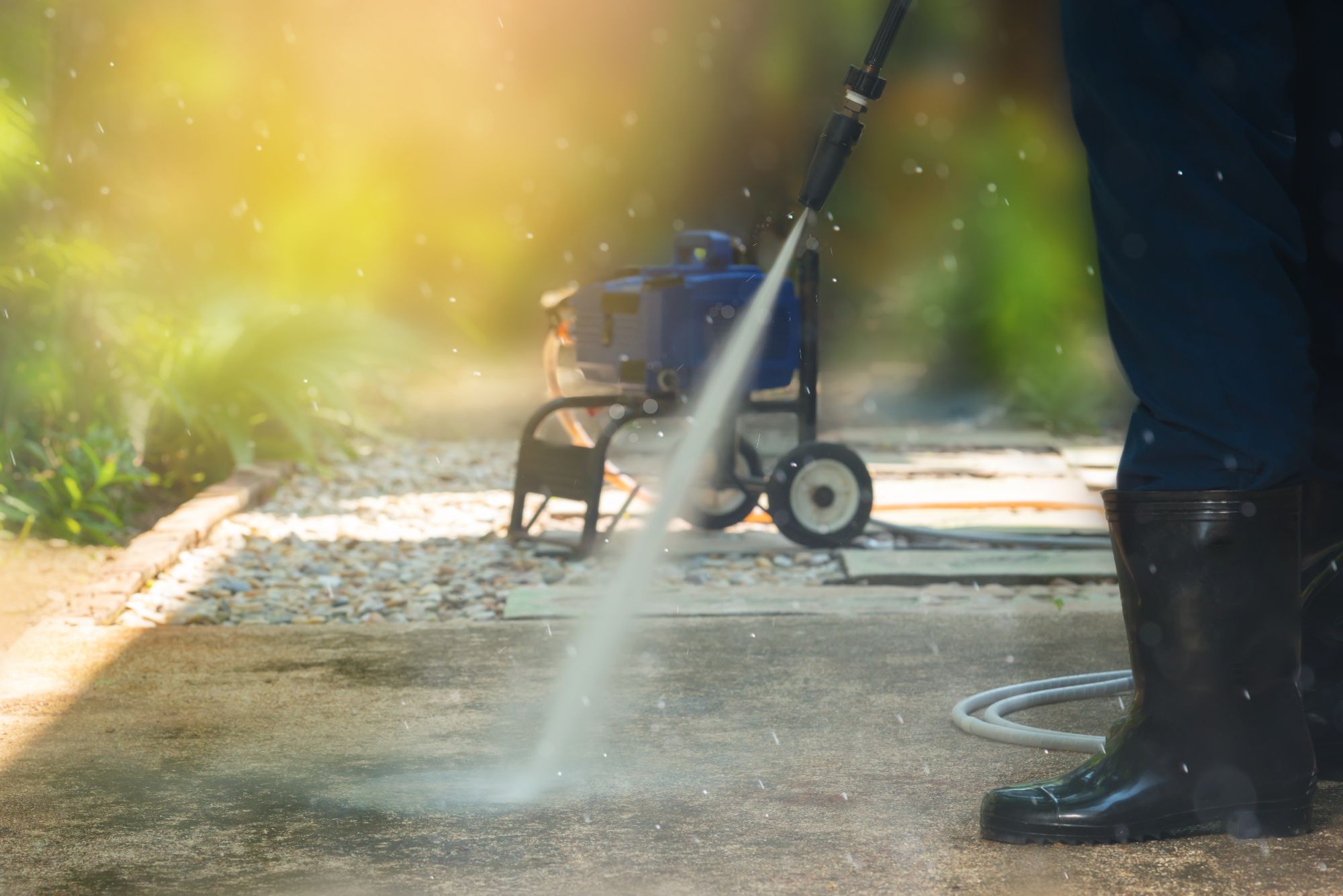 What is jet washing?
The term 'jet washing' simply implies that powerful jets of water are being used to clean a surface. For this reason, jet washing is a good overall term that can refer to either pressure washing or power washing. See it as the overall umbrella term that encompasses both types.
What is pressure washing?
Pressure washing is done with an electrical machine called (you've guessed it…) a pressure washer, which uses a high-pressure water spray to clean large surfaces and remove unwanted dirt, grime, graffiti, and even chewing gum.
Using a pressure washer is a great way to give a building or outdoor area an instant facelift, transforming many spaces from drab, dull, and dirty to sparkling clean and just like new. You can see some transformations for yourself here.
An electric pressure washer is therefore ideal for cleaning:
Frontages of buildings
Pavements, patios & driveways
Vehicles of all types
Public spaces such as parks & arenas
A pressure washer uses cold water.
What is power washing?
Power washing is almost exactly the same as pressure washing, except it uses heated water to help tackle mould, mildew, grime, and other dirt or debris. Many people argue that heated water has more cleaning and dirt removal benefits than power washing, but both are equally as effective.
Take care when using power & pressure washers
The risks of using either a pressure or power washer yourself include damage to property, harm to yourself, and potentially even harm to another person who happens to be in the vicinity. Any kind of pressure or power washer, when used incorrectly, has the power to tear the skin and dent metal, which is why you should always call in the experts for your jet washing needs.
Pressure washing services throughout winter in Surrey
Jet Wash Surrey is the premier choice for millions of businesses and homeowners throughout the Surrey area, providing things like graffiti removal, stone cleaning, and render reviving in areas such as Whyteleafe and Hersham.
With decades of experience in providing customers with outdoor cleaning services, such as gutter cleaning, conservatory cleaning and brick cleaning, Jet Wash Surrey is the trusted choice for pressure washing in Surrey. If you'd like to see examples of jobs we've undertaken previously, visit our gallery and take a look at what our customers say about us.
Need assistance with blocked gutters, grimy patios or marked render? Get in touch with Jet Wash Surrey today. Call us on 020 8138 0184 for your bespoke quote.