It's great having outdoor spaces you can use for socialising, relaxing and exercising in, especially in the warmer months. For those lucky enough to have a pool, it's the perfect place to spend time with the family. However, the area around a pool can become unsightly and dangerous without proper cleaning techniques, so jet washing is often a must.
Considering jet washing your pool surround? If you want some top tips for how to power wash around your pool, read on.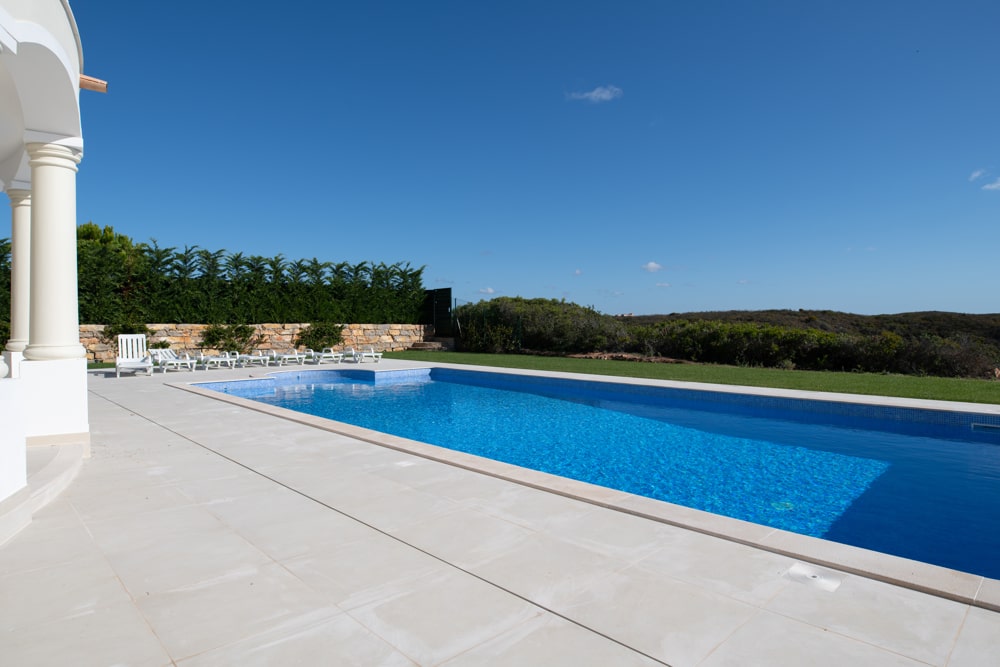 Why clean your swimming pool surround with a pressure washer?
Whether your swimming pool forms part of a commercial space (such as a hotel or spa) or it's based in your private garden, keeping its surround clean has lots of benefits. Firstly, unsightly grime can bring down the look of outdoor areas, affecting your enjoyment of the space. It can also become slippery if algae spreads across the surface, which is particularly dangerous next to a pool.
Power washing your swimming pool surround is one of the best ways to restore its look, leaving it sparkling clean. It's a suitable method for cleaning most types of hard outdoor surfaces, from patios to block paving. It's ideal for many pool surrounds, removing dirt and grime that would normally be left to ingrain further into the surface material.
Assessing your pool surround
Unfortunately, swimming pool surrounds are notorious for building up grime and algae quickly due to their exposed and wet environment. You should check how extensive the problem is, usually affecting both the material and between any slabs.
If there are any vulnerable spots, such as broken grouting or cracked tiles, gentler washing methods may need to be used in these areas. For all other parts, power washing is one of the best ways to use pressurised water to blast away dirt and grime.
Some people like to power wash the surround at times when the pool has not been in use so that the area has time to dry, starting the process by sweeping away any loose debris.
Best power washing methods
When a power washer is used, the correct nozzle attachments and equipment settings should be selected to ensure an effective clean without damaging the surface.
If a pressurised water stream is applied, it should be aimed away from the pool to stop debris and grime from entering the water or unfilled space, as this only moves the issue from one place to another rather than exiting via a drain or exposed ground.
How to stop algae regrowth
As part of the power washing process, you can also spend some time preventing any algae from returning, as it can regrow quickly in damp conditions, such as those found around a pool area.
For this, the best option is a non-aggressive biocide treatment. This will treat the unwanted algae spores to ensure they won't return for a few years while protecting the pool from chemical damage.
Professional pressure washing solutions
Are you looking for a swimming pool surround cleaning professional? At Jet Wash Surrey, we offer our services across the area, including Kenley, Kingswood and Leatherhead. To get a free quote, call now on 020 8138 0184 or email [email protected].