Weeds that grow through the stone slabs or paving blocks on your patio or driveway can be a nightmare in terms of aesthetics, collecting debris and making your outdoor space look on the unkempt side. They can also be a nuisance in terms of ground movement, as they can result in lifting your paving and potentially even causing it to become both unsightly and unsafe.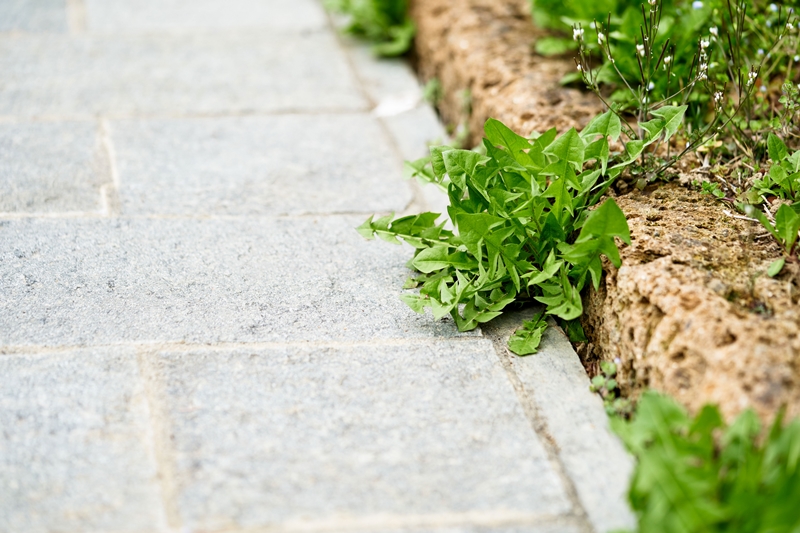 While there are countless weed killers that promise instant, effective results, they will usually appear again after a period of rain and sun, effectively rendering all your hard work pointless. Liquid weed killers can also be harmful to the environment, as well as any pets or wildlife on your property.
Does jet washing really remove weeds?
Yes! Jet washing is a great way to blast away any dirt, grime, and those annoying hard-to-reach weeds that grow around the edges of your paving or patio. However, it's essential that the person operating the jetwash is an experienced professional with knowledge as to the functions of the pressure washer and the materials used on your paving. This is because lack of experience or careless use of a pressure washer can result in damage to your property or the flooding of your outside space.
Why should I opt for a professional jet washing service?
Power washing uses blasts of water that travel at an intense speed, meaning that they can easily cause damage to property and even harm yourself or others. Examples of this harm and damage can include broken paving slabs, chipped paint or render, smashed glass, and even bodily harm such as bruising, lacerations, and serious eye injuries.
A professional jet washing service can effortlessly remove moss and mildew from your patio, walkways and paths, as well as banish those stubborn weeds.
If you're in or around the Surrey area, Jetwash Surrey can also work with you to incorporate a weed treatment into your pressure washing service. (In fact, just take a look at our gallery, you can clearly see the difference our customers enjoy as a result of our services.)
How else can I tackle weeds?
If you want to stick with the DIY approach, there are a few ways you can go about removing weeds without the need for a professional pressure washing service. Although they will take a lot longer, the following methods can help:
Using a weed removal tool
Eco-friendly weed killer
Removing weeds by hand
Burning weeds away with a weed wand (consulting an expert is definitely advisable!)
Choose Jet Wash Surrey for weed removals & patio cleaning
Here at Jetwash Surrey, we take great pride in our helpful, friendly, and expert approach, working with both domestic and commercial clients across Surrey and south London. Our extensive range of services doesn't just cover patios and driveways, but also gutters, render, roofs, conservatories, and even swimming pool surrounds.
See what our existing customers have to say about our jet washing services here, or get in touch with us today.