Residential and commercial gutter clearances and gutter cleaning in Kingswood, Surrey
Do you have clogged gutters and need gutter unblocking in Kingswood, Hooley, or Merstham? Gutter cleaning and gutter maintenance and two of the most overlooked property maintenance jobs. Here at Jet Wash Surrey, we complete gutter cleaning for residential homeowners and a range of commercial and public buildings including schools, retail premises, factories, and offices.
• Commercial • Residential • Industrial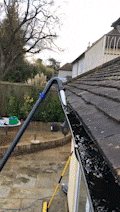 Our local gutter cleaners can ensure that your gutters are in good working order. It is really important to keep all guttering and downpipes in a good state of repair. Bad weather and leaf fall can cause them to become blocked or to sag in the middle or pull away from buildings.
We used advanced gutter vacuuming, using a SkyVac system. The benefits of gutter vacuuming include:
No mess: Our gutter cleaning system removes all wet and dry debris and leaves no mess or waste behind. They are powerful and can vacuum up even heavier deposits.
Safe: Our gutter vacuums allow us to complete cleaning from the ground without the need for ladders and scaffolding, making it fast, effective, and safe. This saves time and money.
Camera: Our system allows us to view your gutters so we can accurately see the cause of any gutter blockages, so we can clear them quickly and effectively.
For more details about our gutter unblocking or gutter cleaning near you, contact us now on 020 8138 0184.
Blocked gutters cleared near Hooley: Why does it matter?
There are many advantages to regular gutter cleaning and unblocking gutters near Hooley, Kingswood, or Chipstead.
Stops pests from nesting: Regular gutting cleaning eliminates nesting areas for pests like insects, birds, and rodents, who can carry germs and diseases. Removing twigs, leaves, and debris from your gutters discourages wildlife from taking up residence there.
Extends the lifespan of your roof: Gutter Cleaning is an important part of prolonging the life of your roof and maintaining your home because clogged and blocked gutters can trap moisture and they become heavy. This puts additional weight and stress on your roof and roofline.
Prevents water damage to your home: The main reason to keep your gutters clean and unblocked is because it stops water from damaging the structure or foundations of your property. If water overflows from your gutters, it can cause interior water damage.
Prolongs the lifespan of your gutters: Regular gutter cleaning will increase the lifespan of your gutters, so they do not become heavy and sagging. Organic matter left in gutters can sometimes cause corrosion and cracks, which will shorten the lifespan of your gutters.
Appearance: Neglected gutters can look unsightly, so cleaning your gutters will improve the appearance and enhance the curb appeal of your home.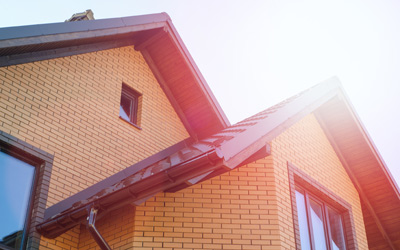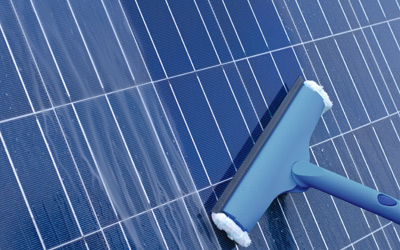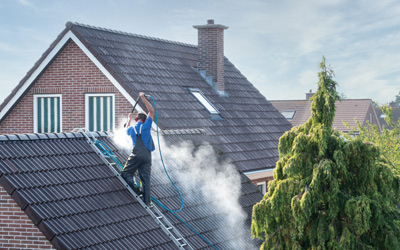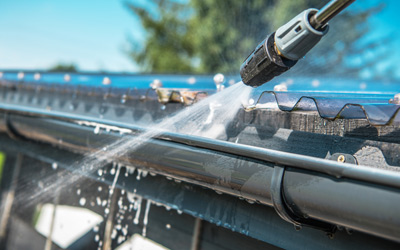 KT20 roof cleaning company you can rely on!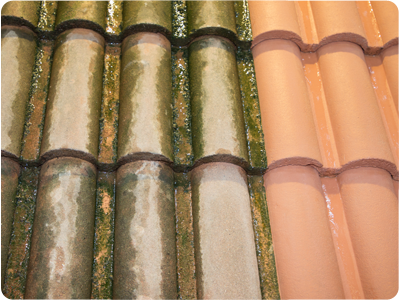 Over time, moss, dirt, and grime can build up on your roof in Kingswood. This will not only cause an eyesore but it can also damage your roof. You may be thinking about pressure washing or jet washing your roof yourself, but always hire professional pressure cleaning specialists.
We use low-pressure and gentle soft washing techniques that will clean your roof whilst never damaging it in the process like high-pressure jet washers can. Our cleaning company is fully insured and highly experienced, so we will always get the job done right.
Comprehensive conservatory cleaning in Kingswood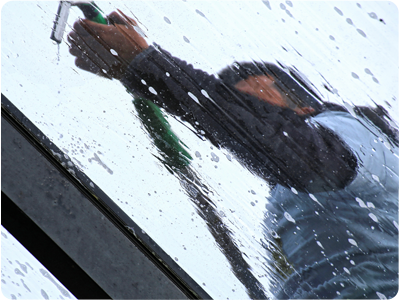 A conservatory can be a great way to add additional space to your Kingswood property, but it is important to keep it in good condition. Not only will it improve the look of your conservatory so the glasswork is clear and you can enjoy it, but conservatory cleaning will always also increase the longevity of your structure.
Here at Jet Wash Surrey, we can provide conservatory cleaning which covers all parts of your conservatory, including the roof, frame, and glasswork to transform its look. We use purified water-fed poles to ensure a sparkling finish.
Fast fascia and roofline cleaning near Hooley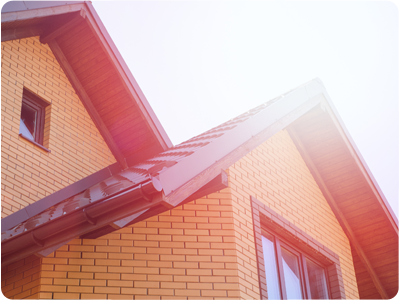 Do you require roofline cleaning near Hooley or Kingswood? We clean all rooflines to remove dirt, mould, and mildew that can build up over time. This cleaning will always really make a difference to your property's exterior.
Our cleaning operatives can provide power washing and soft washing seven days a week, at a time to suit you. They are happy to provide a free quote at any time for roofline cleaning or our other power washing services, such as driveway cleaning.