As spring approaches, one of the jobs many homeowners decide to tick off the list is gutter cleaning, ensuring your property has an effective rainwater drainage system in place. However, gutter clearance services can be used at any time throughout the year, so it's important to recognise when there may be issues arising. Here are some of the key signs your gutters need clearing.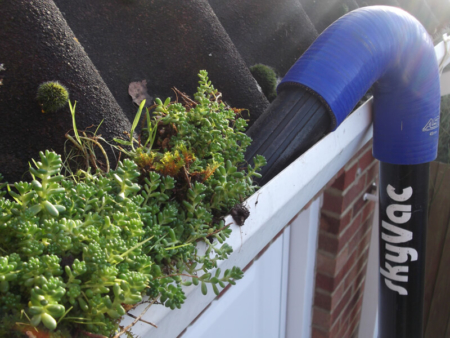 Overflowing Gutters
One of the first signs of blocked gutters is seeing them overflowing with your own eyes. Next time you get home when it's raining, have a quick peek up at them – can you see water coming up over the sides of the vertical gutters along your roofline? You may also notice particularly waterlogged ground under the guttering or water marks down the side of your property. The gutters may even start to sag a little under the weight of the water.
Roof Leaks
One of the most obvious signs that your gutters are blocked is property leaks, often when rainwater becomes backed up, finding its way in through small openings in your roof. Gutters and downpipes must remain clear to ensure rainwater can continue run off your roof as expected. Anything from stones, leaves and even dead animals may block the path of water. If any rainwater makes its way inside your property, it could cause damage to your internal rafters and possessions, not to mention the resulting stress and costs involved.
Cracked or Loose Downpipes
Heavily impacted gutters and downspouts can start to cause damage to the structure itself. This is often caused by the weight of the debris in the system, putting pressure on fixings. In freezing temperatures, any trapped rainwater which expands as it turns to ice could also cause cracks in the gutter material. Therefore, you may want to consider repairs too.
Algae Growth
If you've noticed any algae or plants growing near your roofline, it could be due to the water and debris (such as dirt and soil) present in your gutters. In these cases, as well as a gutter clearance, you may want to consider roof cleaning services too. This involves a gentle pressure wash to remove any algae present and applying a treatment to stop the problem from recurring. It's vital to stop the spread of moss and lichen across a roof as it could start to displace tiles.
Need gutter cleaning?
At Jet Wash Surrey, we offer advanced gutter clearance solutions using Spinaclean's SkyVac solution, designed to clear debris from your gutters safely and quickly. We can even use high-level camera equipment to identify the source of the issue and check that water will now be able to flow freely through your guttering.
We operate across South West London and Surrey locations, including Chipstead, Cobham and Epsom. If you'd like a free, no-obligation chat about any of our jet washing solutions, or you'd like to book urgent gutter cleaning, call now on 020 8138 0184.